Along with our Llamas we have a herd of Huacaya Alpacas and every year we have between 4 and 8 Alpaca Cria born. In 2015 we had 6, 3 females and 3 males,  the 3 females were sold with their mums at the end of the year leaving us with the 3 males.  Wilbur, Winston and Widget, have now started their halter training mainly because we have entered Widget and Winston into a couple of Alpaca Shows.  I have high hopes for Widget, the little black in the pictures, he is a stunning looking boy with a lovely dense, bright, crispy fleece.  Winston is Dark brown and is lovely but not as well grown as Widget.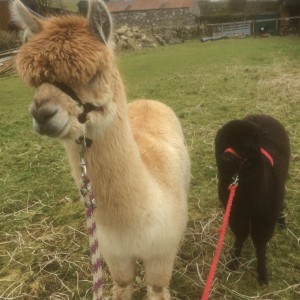 Today in halter school we enlisted the help of Zanti, a older female who is very calm and walks really well on a halter.  This make halter training so much easier as the little ones will follow Zanti and forget they are actually being led on a rope, much better than trying to get them to walk on their own.
All three walked around the cottage garden and back to the field, only takes about 5 minutes each and then they get to go back to grazing.  A little every couple of days seems to work well.
We will be putting Winston and Wilbur up for sale once they are trained whilst Widget will be retain to see if he makes the grade as a future Stud Male.